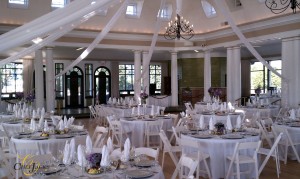 How to Choose & Book the Best Wedding Venue
Choosing and booking the best wedding venue is an important (and exciting!) part of wedding planning.  It doesn't have to be a complex process, especially if you follow these steps for finding and booking the perfect venue for your special day.
Have a discussion with your fiancé
Before you start searching for wedding venues online or think about caterers, sit down with your fiancé (or talk on the phone or skype or…) and nail down the key details of your big day.
Your venue is the backdrop of your wedding; it's also a key factor as you choose every wedding day detail (i.e. food, décor, etc.)  Choosing your style now prevents you from planning a disconnected wedding with random details that don't fit together.  Ask yourselves, "who are we as a couple?"  Would a rustic wedding fit who you are as a couple?  Or an elegant affair?  Are you a couple with a retro flair?  Would a vintage wedding fit your vision of a fun wedding day?
Date/Month.  You don't have to nail down the exact wedding day in one conversation.  You should decide as a couple what time of year works for both of you (try to narrow it to a month or two).  If you're completely lost on deciding a date, use this guide to select the right wedding date.  Whatever date you choose, use that to sift through your options for a wedding venue.  If you have a date, ask wedding venues if that date is available (if it's not available, that venue is scratched off the list!).  If your timeline isn't quite as exact, ask the venues what dates they have available during your month or season.
Guest list size.  Again, you don't have to know the exact number of guests that are attending your big day, but you should have a general number.  Talk with your fiancé and family members to come up with an approximate guest list that you can use for your venue search.  As you contact venues, ask how many guests they can accommodate.  Cross off any venues that are too small for your guests; capacity numbers are set for the comfort and safety of your guests.
Set a budget before you start contacting wedding venues.  Allocate the proper amount to the venue (this should be a large part of the budget), catering (another big line item), attire, décor, and other wedding expenses (use this wedding budget template to get started).  Make sure you add a line that covers unexpected expenses; surprise expenses often arise as you plan.  Once you have an amount set for venues, use that amount as another criteria in your wedding venue search.  Make sure the cost each venue quotes is inclusive so you aren't faced with over time fees and other unexpected add-ons.
Make a list of wedding venues that fit your style
You've set your style, date, guest list estimate, and budget.  Now it's time to use those factors to narrow down your list of prospective wedding venues.  Use the internet to find local wedding venues with your chosen style (historic, elegant, rustic, etc.), ask family and friends for their recommendations, or browse social media for local wedding sites.
Ask prospective venues the right questions
No matter how you contact your wedding venues (e-mail, phone, message, etc.), make sure you ask each wedding venue questions that help you select the right venue and assist you as you plan your wedding.
Is the venue available on my wedding date? OR What dates are available during these months/season?
How much does it cost to rent your venue?  How many hours does that cover?  Are there any other fees or costs that I need to be aware of?
What is the capacity of your venue?  How many people can comfortably seated for dinner?  Do you have a separate space for the dinner and reception?
(If you need a wedding planner…)  Do you have event planners on staff that can assist with wedding planning?
Does your venue allow me to bring in a caterer or do you have an in-house caterer I have to use?
(If you need a wedding ceremony space…)  Do you have an area where we can hold our wedding ceremony?
Are there any policies concerning alcohol I need to be aware of?
Is there parking available at or near your facility?
Is your wedding venue wheelchair accessible?
Do you provide staff for my wedding, such as coat check, on-site coordinator, etc.?
Do you have liability insurance? (Covers you in case of an on-site injury.)
What is the cancellation policy?
Are there hotels near the venue for any out-of-town guests?
When can I tour the venue?
Schedule a tour
As beautiful as the pictures may be on a venue's website or social media site, don't book a venue without seeing the actual facility.  Ask questions as you tour the venue.  Make sure you are clear about any information you need to provide and deadlines you need to meet for a smooth wedding planning process.