6 Autumn Wedding Menu Ideas that Your Guests'll Fall For
Here are a few tips to help make sure all the Fall foods you love play a part in planning your autumn wedding menu.
Autumn Wedding Menu Ideas
When you think of a traditional fall day, you picture autumn leaves, pumpkins, warm colors, and cool days.  There's no reason you can't duplicate that vision of a beautiful autumn day in every detail of your wedding planning—including your wedding menu.  Here are a few tips to help make sure all the fall foods you love play a part in planning your beautiful autumn wedding day.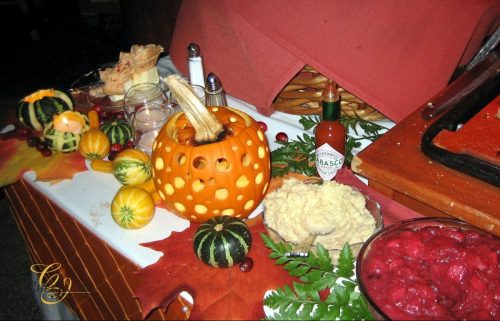 Start the night off with comfort foods
If you want your guests to feel like they're enjoying a cool fall day at your wedding reception, serve appetizers that embody the season: mini grilled cheese with tomato soup, chestnut rumaki, artichoke toasts, butternut squash with crème fraiche, sweet potato cakes with maple syrup, or tomato basil bruschetta.
Soup and salad that make your guests "fall" in love
Pun intended.  Add a course of delicious autumn dishes to your wedding menu, such as roasted butternut squash soup or a pumpkin salad (mesclun mix with cubed pumpkin, pearl onions, minced garlic, salt & black pepper, rosemary, thyme, bacon & toasted pumpkin seeds with dijon mustard vinaigrette).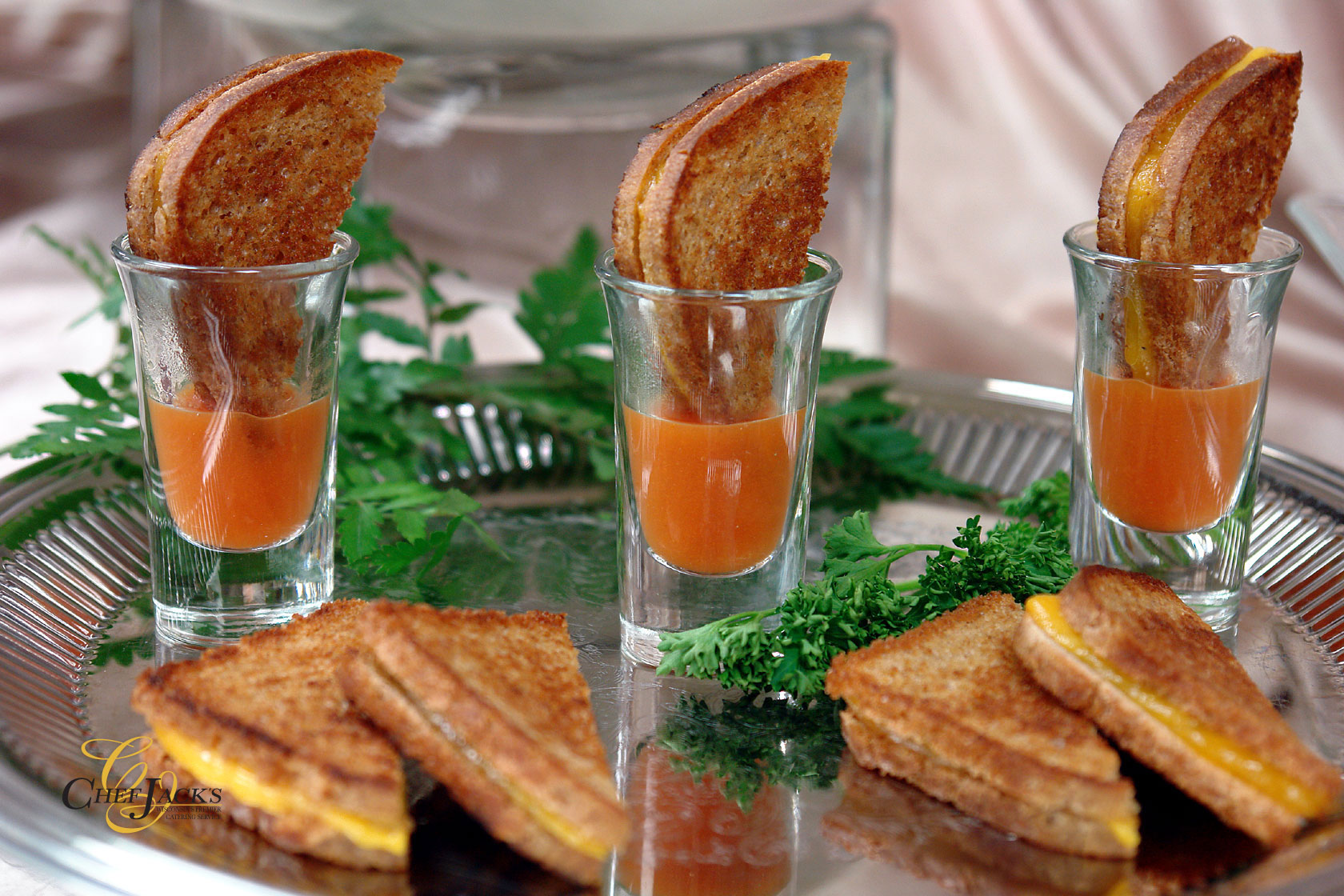 Use food stations to make your guests enjoy fall cuisine
Fall means something different for everyone, so treat your guests to their favorite autumn cuisine—whatever that may be.  Consider using food stations to serve their fall favorites.  With interactive food stations, guests are encouraged to mingle to sample the variety of different foods available, such as our Thanksgiving station with chef carved turkey breast, whipped sweet potato, herbed sage dressing, cranberry relish, and gravy.
For a light and fun addition to your fall menu, picture our martini potato station with roasted garlic mashed and baby reds mashed with chopped bacon, shredded cheddar cheese, onions, sour cream, and gravy. Keep the martini glass dining going with our martini macaroni and cheese with a choice of two different kinds of mac and cheese: margarita mac or the lobster mac. Or add a warm biscuit and ham station with Virginia ham, buttermilk biscuits, sausage gravy, cranberry Chutney and a host of other delicious sides.  Or…we have a host of other ways to bring your idea of fall cuisine to life.  Check out your options for food stations or describe your autumn vision to us.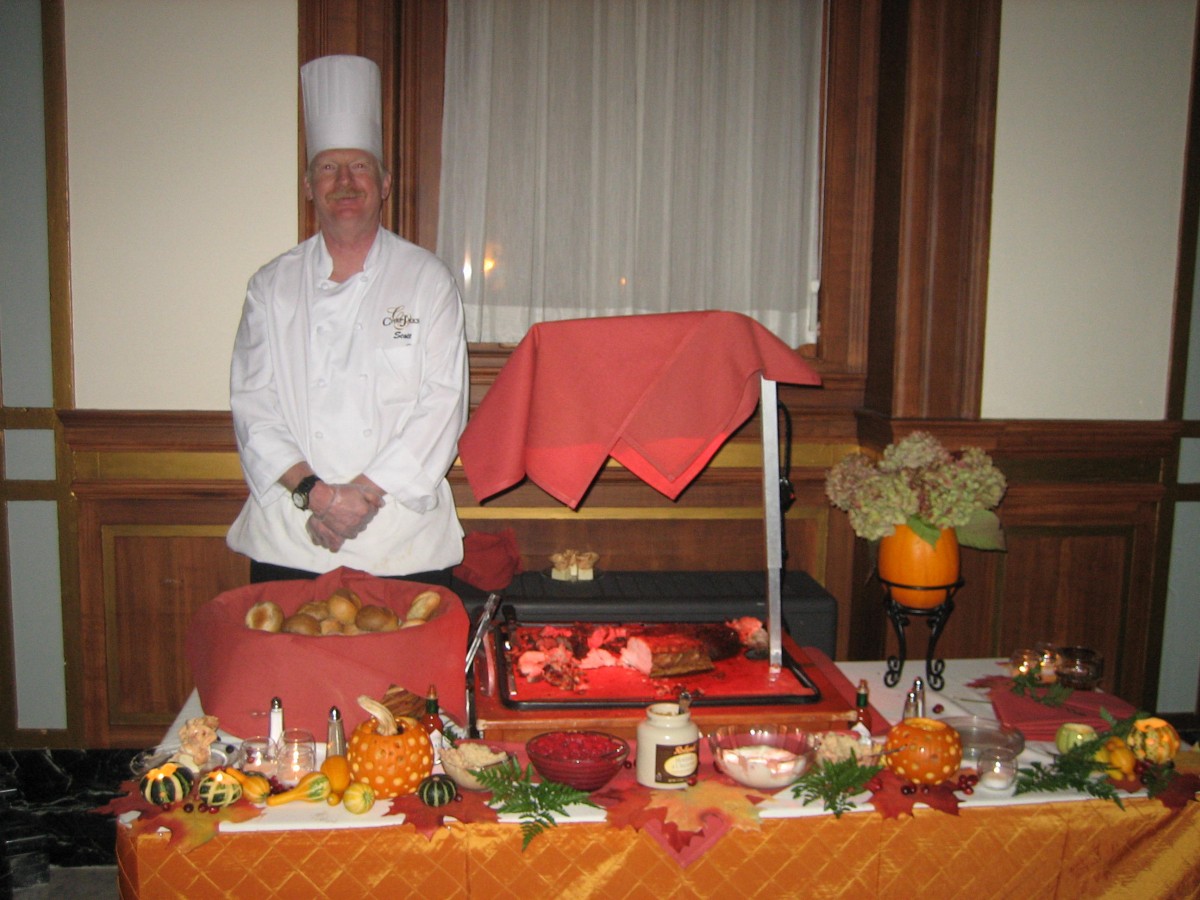 Plan a meal that makes your wedding feel like a holiday
If you want your Fall wedding reception to feel like a holiday sit-down with the family, picture this: tables of guests served warm foods like Grandma used to make, served sit down or family style.  Start your guests off with scallops with cranberry lime horseradish, brie and cherry phyllos, chestnut rumaki, red pepper hummus on pita chips tomato pesto crostini, followed by a mesclun salad (mesclun greens with dried cranberries, toasted almonds, and red onions with balsamic vinaigrette dressing) and assorted rolls. Add a hearty, holiday course with chicken etouffee and crab stuffed tenderloin florentine, napa valley blend vegetables and potato shells filled with garlic and chive mashed potatoes for a delicious evening that'll make them feel like a wonderful holiday evening gathered around the table.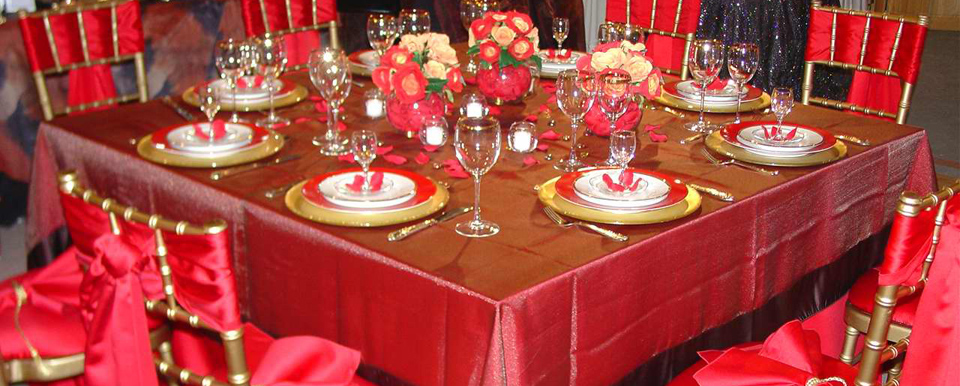 Serve a dessert with a cozy glow
Lighting is an essential part of fall décor, and so can be your cuisine.  To recreate those cool nights in front of a fire, include one of our favorite fall wedding desserts, baked orange Alaska, into your Autumn wedding menu.  The dessert is a Florida orange filled with French vanilla ice cream, topped with meringue and flamed with brandy. Serve this unique fall wedding dessert as a non-traditional "non-cake" dessert option or as a special course.
Choose everyone's traditional (and non-traditional) fall favorite desserts
If you want to keep the feeling of a traditional fall meal going, include bread pudding and pie as part of your fall wedding menu.  A traditional bread pudding with a decadent bourbon sauce fits with everyone's vision of a customary fall dessert. For a non-traditional take on a traditional fall dessert, use a mason jar station with cherry and peach pie, and s'mores to your last course (or late night course).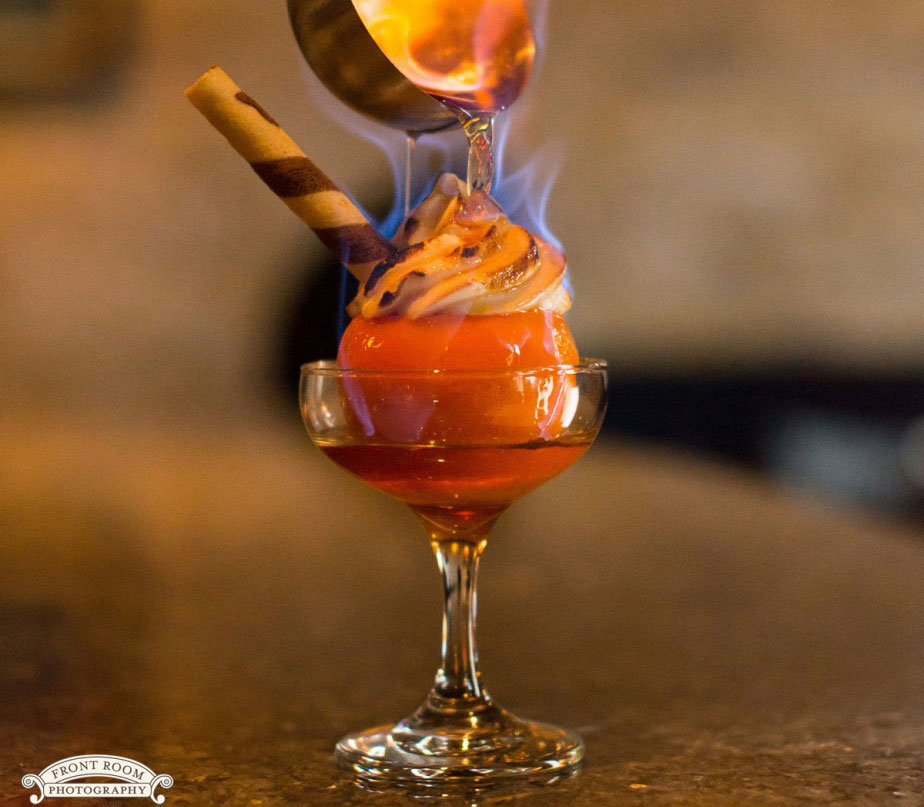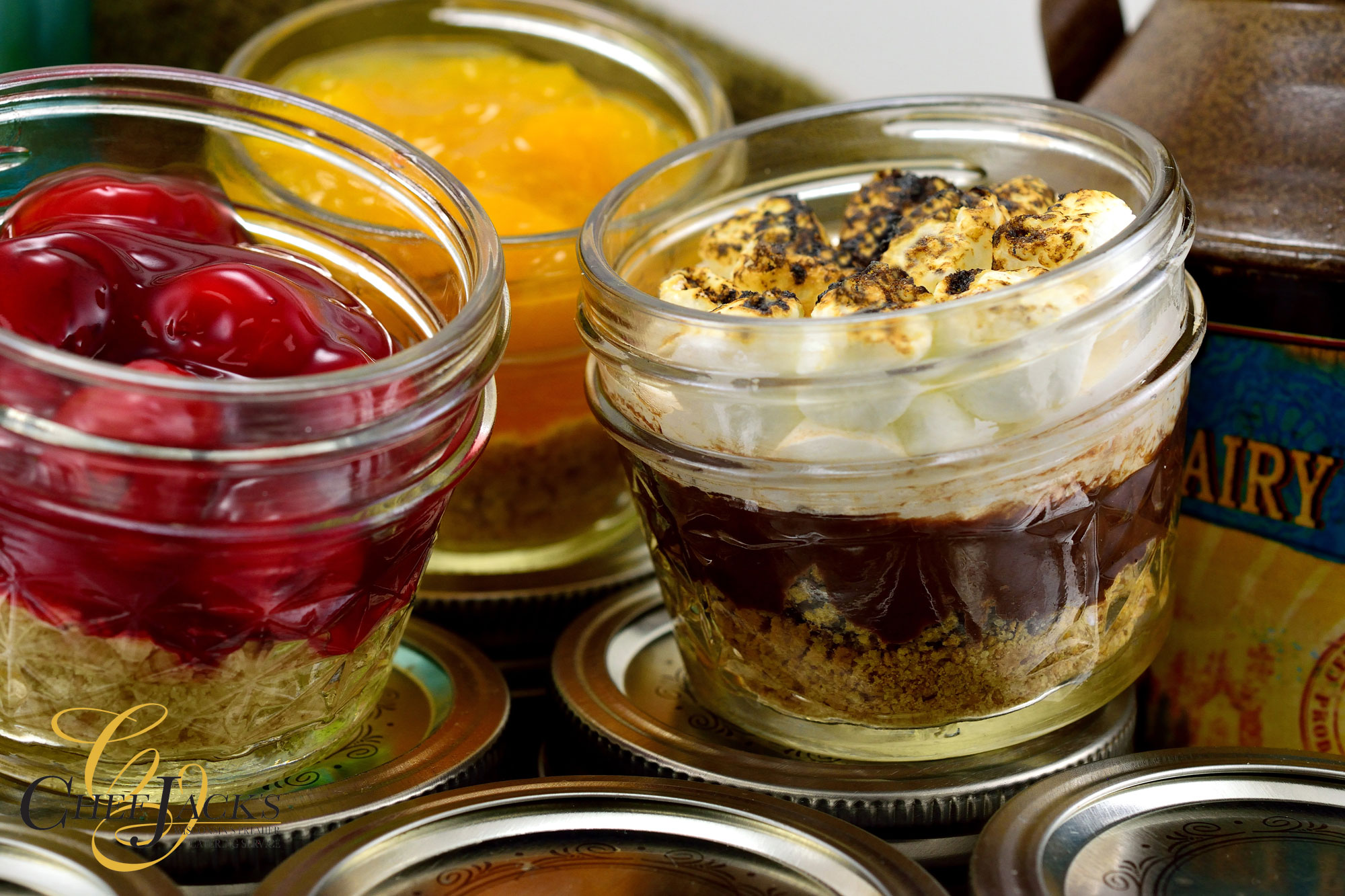 Warm fall drinks
If you want to warm your guests up (or keep them going) after a long night of dancing at your wedding reception, serve traditional fall drinks like apple cider, pumpkin spice—or a more traditional end of the evening cup of coffee.  Sweeten the deal with a hot cocoa bar with mini marshmallows.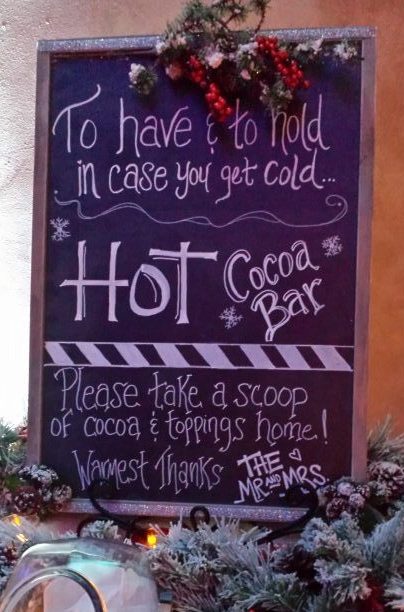 Summary
Article Name
6 Autumn Wedding Menu Ideas that Your Guests'll Fall For
Description
There's no reason you can't duplicate that vision of a beautiful autumn day in every detail of your wedding planning---including your wedding menu.
Author