Corporate Event Planning
8 Unique Food Station Buffet Menu Ideas
Use European food stations to create flow and make your event an experience—not just another event with a buffet.
European Food Stations
We've talked about ways to make your corporate event memorable and make it stand out from the others. One of those ways is to use European food stations to create flow and make your event an experience—not just another event with a buffet.  Unlike traditional buffets, food stations create an atmosphere where guests are encouraged to mingle and sample the variety of different foods available.  Combine that with a memorable corporate event venue, and you've got an excellent starting point in planning an engaging and memorable event.
The next step is to dive into menu planning for each of your food stations.  With the right food (and drink!) stations, your event can go from a standard networking affair to an interactive experience your guests will enjoy, engage with, and talk about for years to come.  So, without further ado, here are a few ideas to spur your food station menu planning that'll take your event to the next level.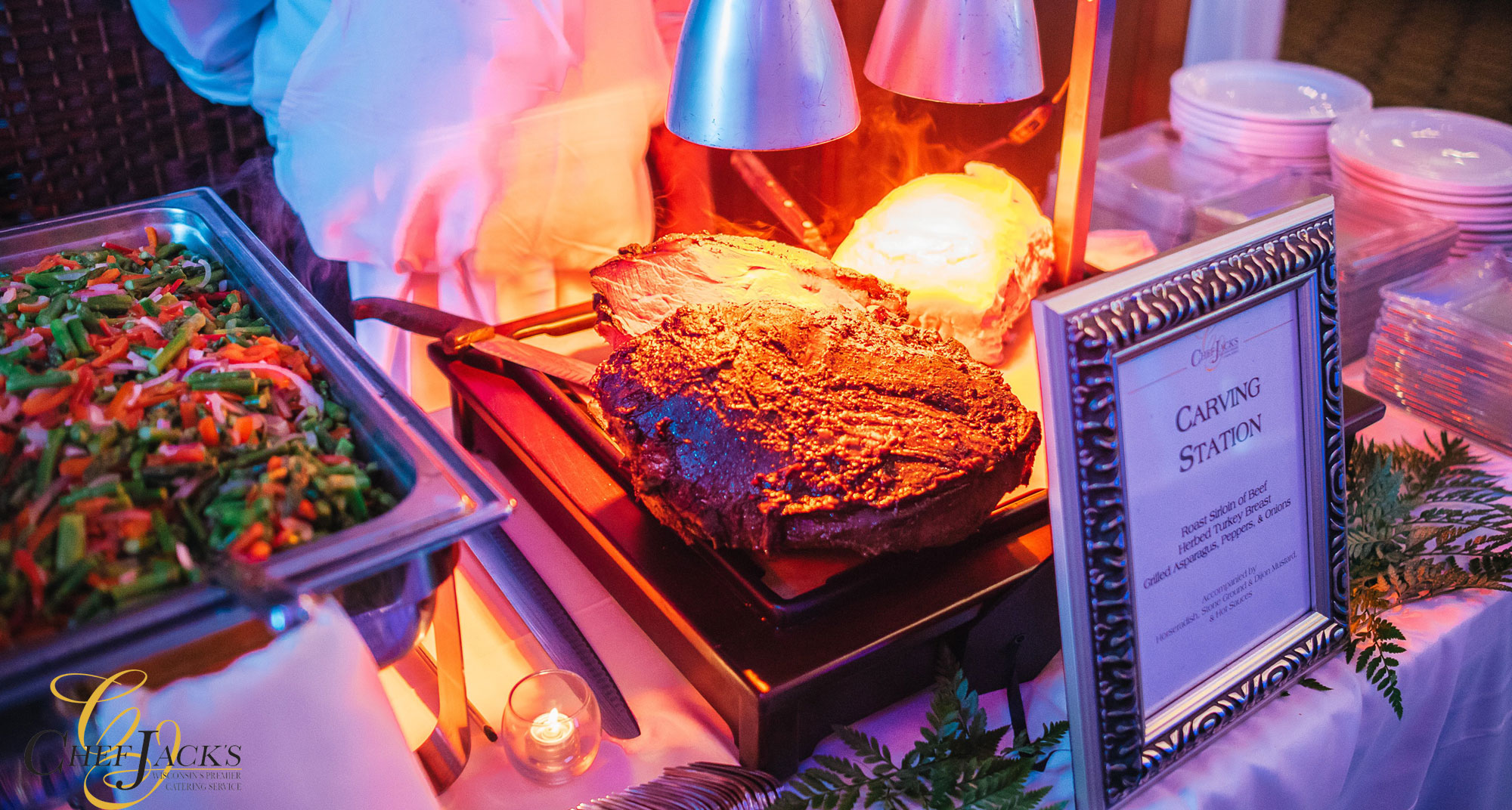 Around the World Food Stations
If you are trying to add an international flair to your event, or you're holding your event at a museum or venue with an around-the-world feel, set a menu with multiple food stations serving international cuisine.
Make your guests feel like they are in little Italy with sautéed Cheese Tortellini and Chicken Alfredo, in Morocco with Lamb & Chicken stewed in a red pepper, garlic, and onion sauce, in Germany with Chef-Carved Beef Rouladen and hot German Potato Salad, or in any other unique country with traditional food specific to that region (ask our professionals for other ideas).
Casual Cuisine Stops
For a more casual feel at your corporate event, ask your caterer for choices of comfort foods.  Try a Slider Station with grilled mini burgers your guests can circulate with, along with assorted pretzel and petite rolls (and don't forget the kettle chips!).
Add a quesadilla station with chicken and pulled pork quesadillas with tomatoes, lettuce, sour cream, chips, salsa, and guacamole and you've got a variety of casual menu options that fit perfectly with your laid-back event.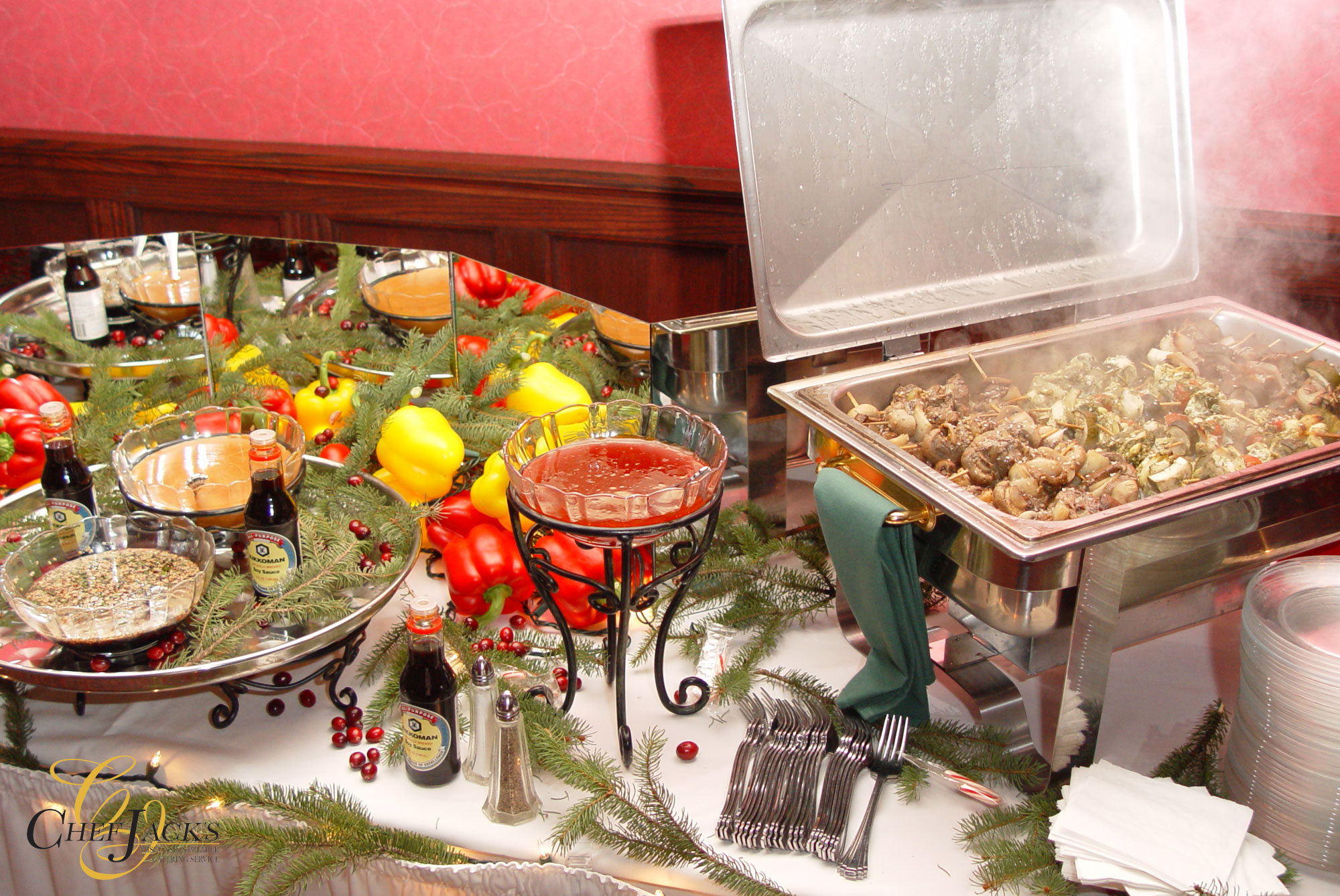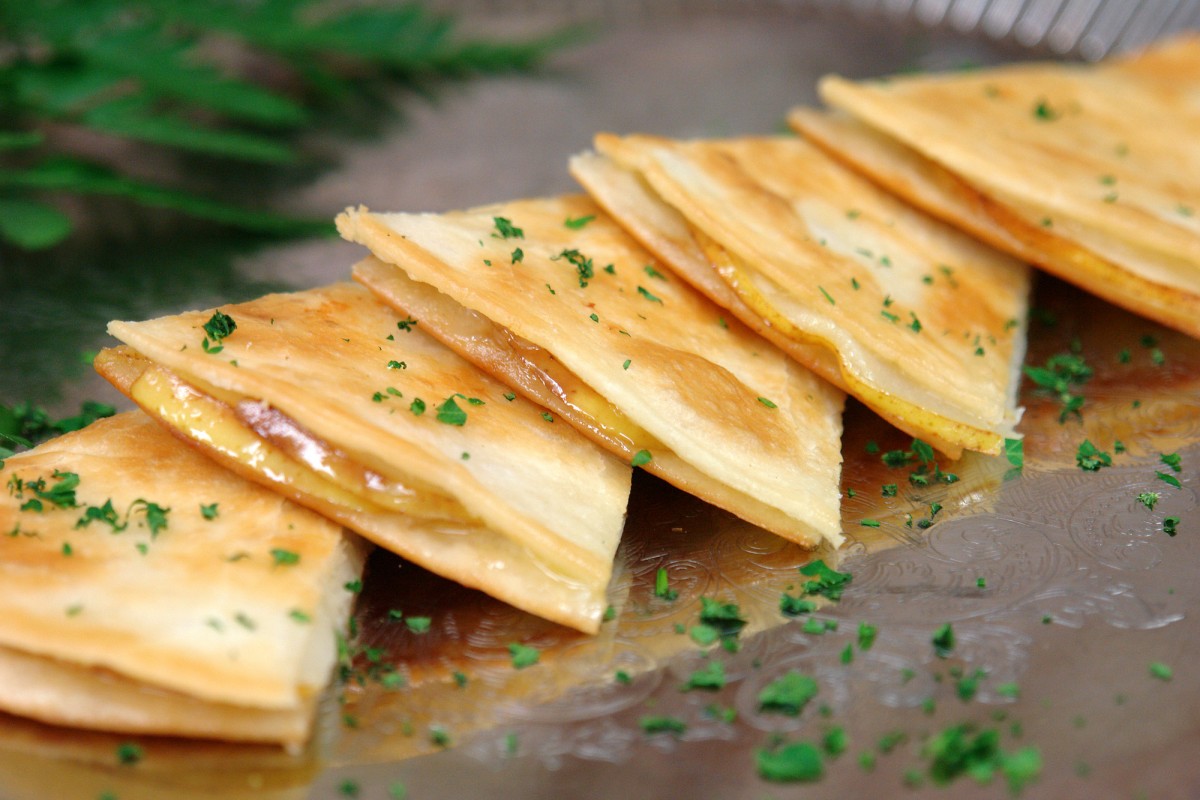 Eat, Drink & Be Caffeinated
If you want to keep your guests moving at the end of your corporate event, or you want to mix a little java into your event cuisine, add a coffee station with flavored coffees with all the fixings: cream, sugar, cinnamon sticks, chocolate jimmies and chocolate powder. It'll sweeten your menu—and your guests' attitude about your event, and unique food stations—for sure.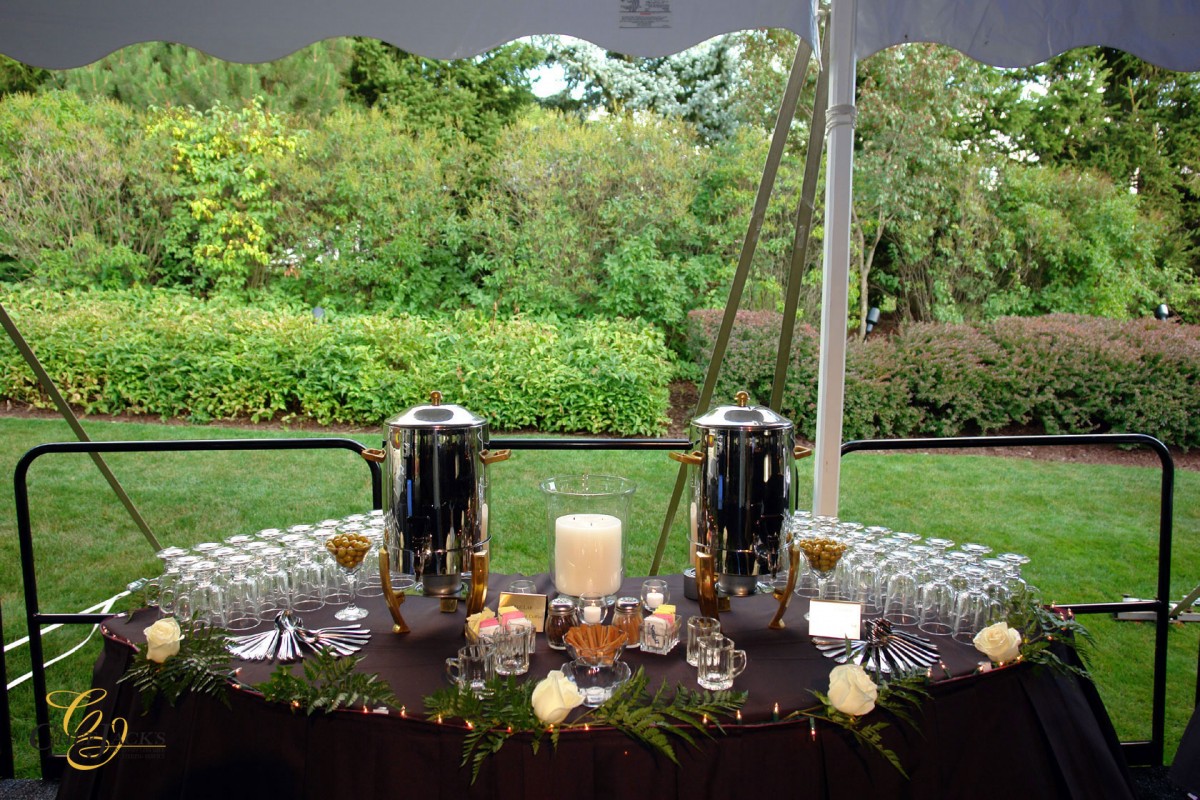 Deserts, Deserts, Deserts…(did we mention deserts?)
Speaking of sweets, a food station with flaming sauteed bananas, french vanilla ice cream, and rum is going to satisfy your guests' sweet tooth and give a unique taste your guests'll talk about for years.  For a more traditional desert food station that has something for everyone, consider a station filled with assorted mini pastries including petit fours and chocolate covered strawberries.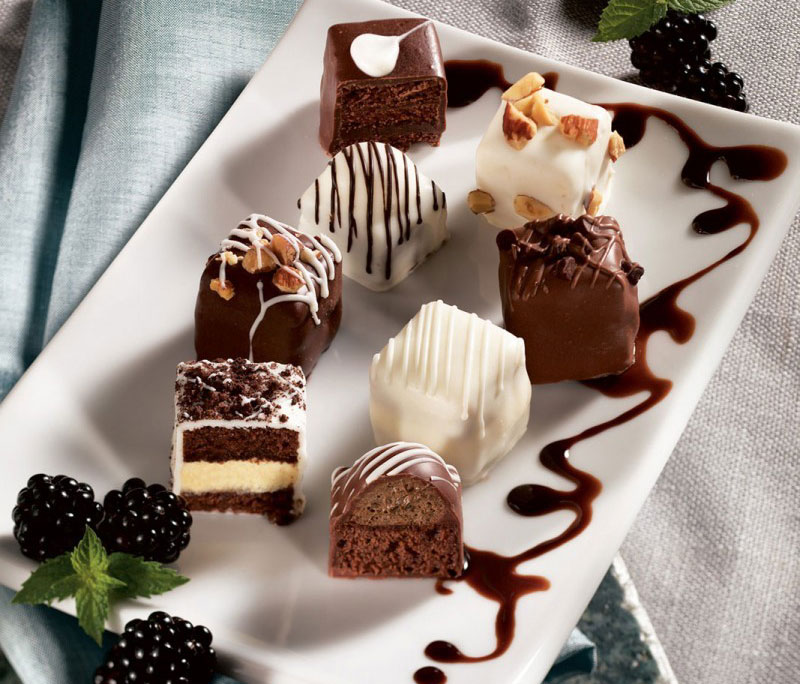 Unique martini glass cuisine
Served in a martini glass, our martini macaroni and cheese and martini potato stations are sure to be a hit with your guests both for their unique and easy serving glass and delicious flavor.  With a choice of two different kinds of mac and cheese, your guests'll flock to our margarita mac: cavatappi pasta sautéed with tomatoes, mozzarella, parmesan, and basil or the lobster mac: lobster, rotini pasta with gruyere and fontina cheeses.
For your meat-and-potatoes crowd, picture our martini potato station with roasted garlic mashed and baby reds mashed with chopped bacon, shredded cheddar cheese, onions, sour cream, and gravy.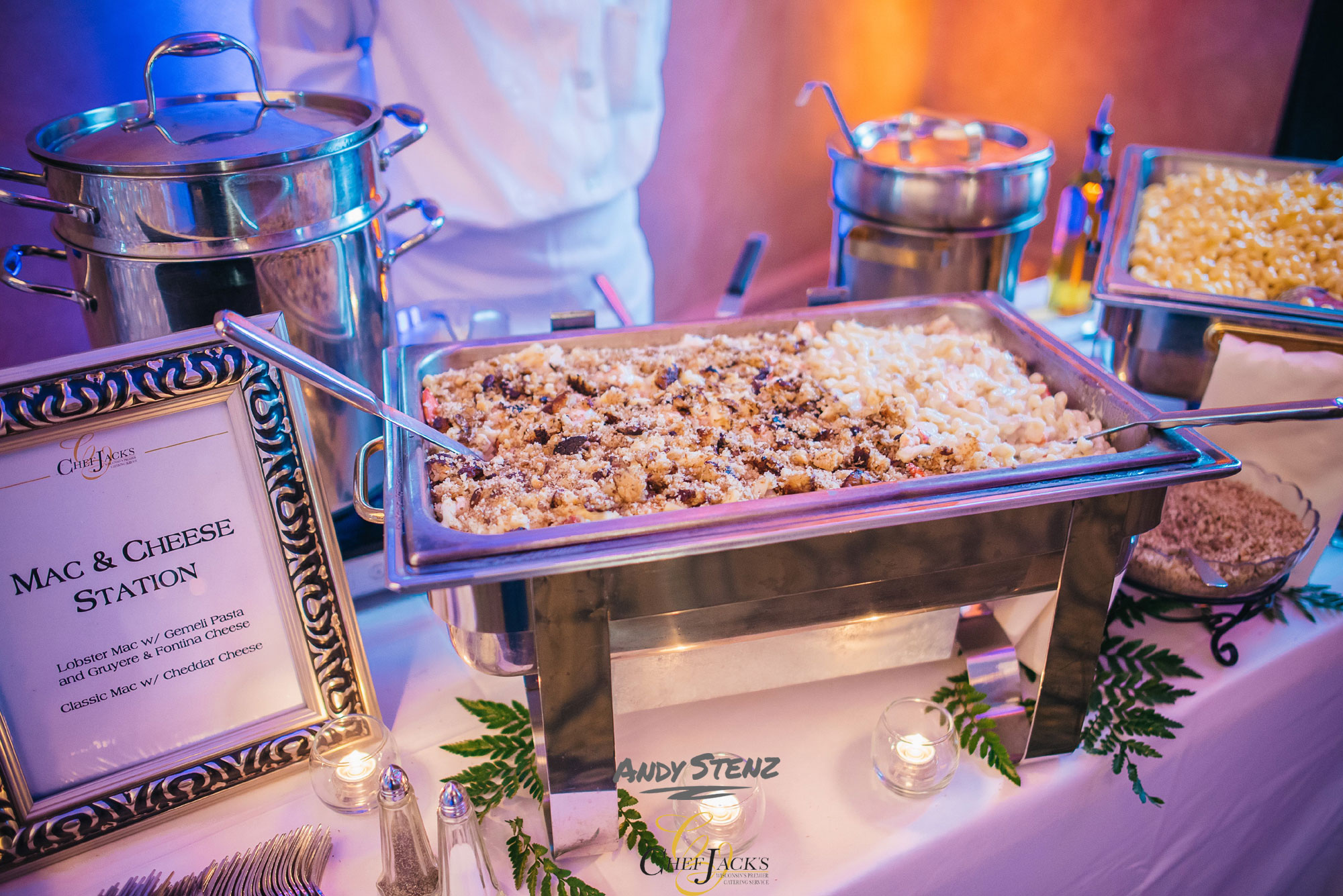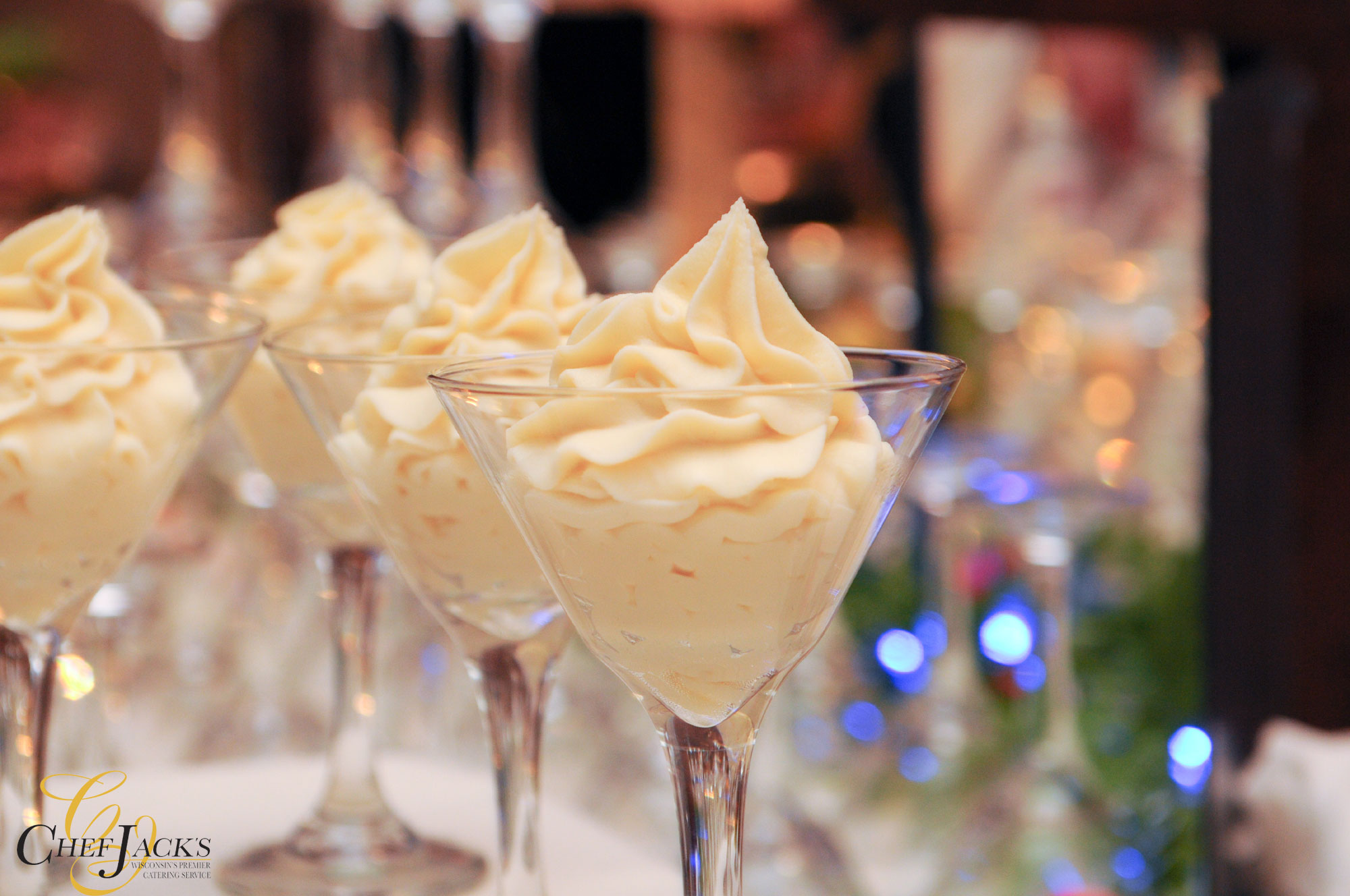 Waterfront Flavor
For an event held at a lakefront venue, consider our seafood station with crab claws, jumbo shrimp and smoked salmon display.  If you want a more south-of-the-border, ocean waves on the beach feel, make our Mexican station the center of your event menu with spicy chicken fajitas with peppers and onions, beef and bean burritos, flour tortillas, sour cream, shredded cheddar, and lettuce with the inevitable tortilla chips with salsa and guacamole.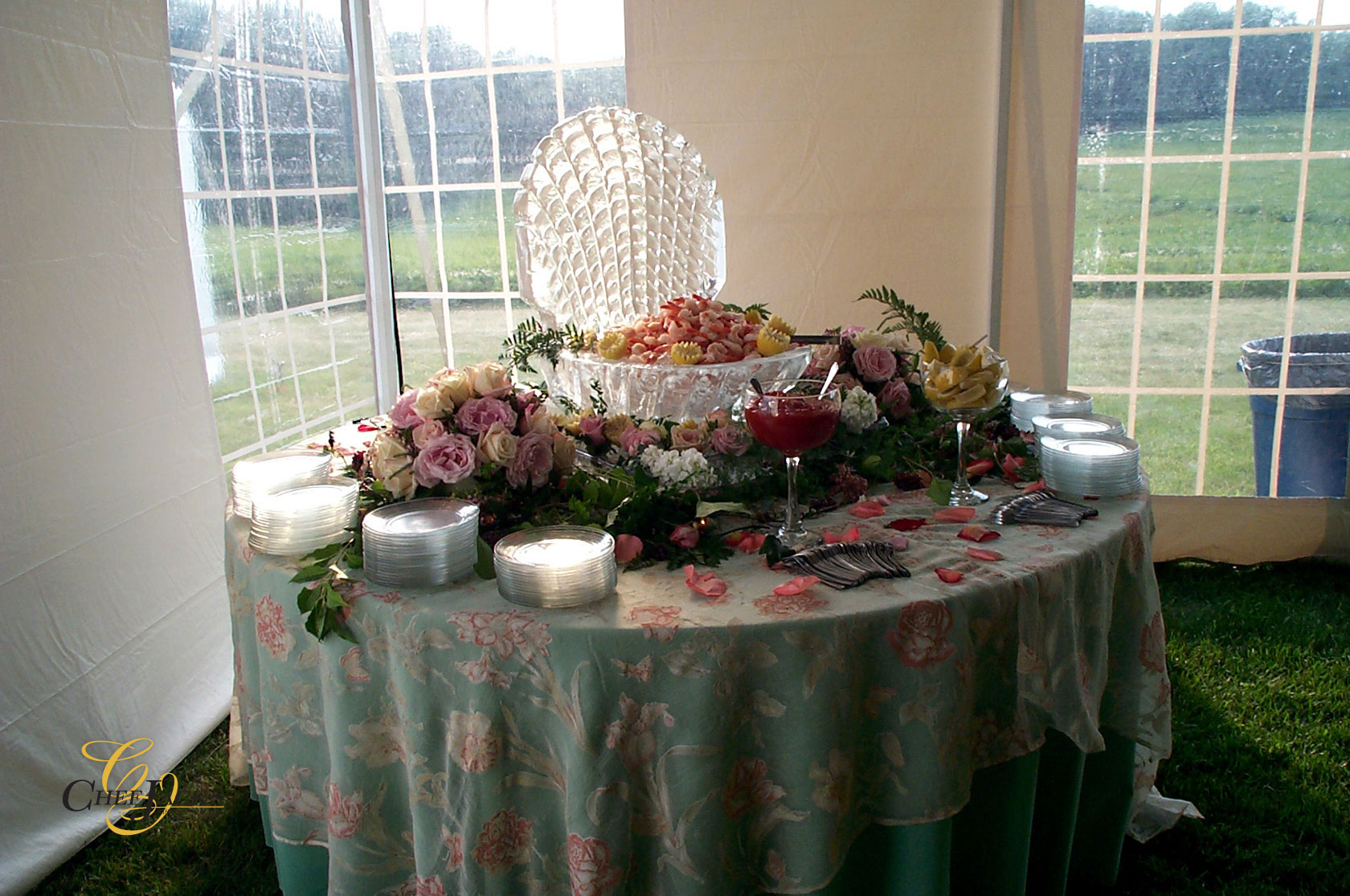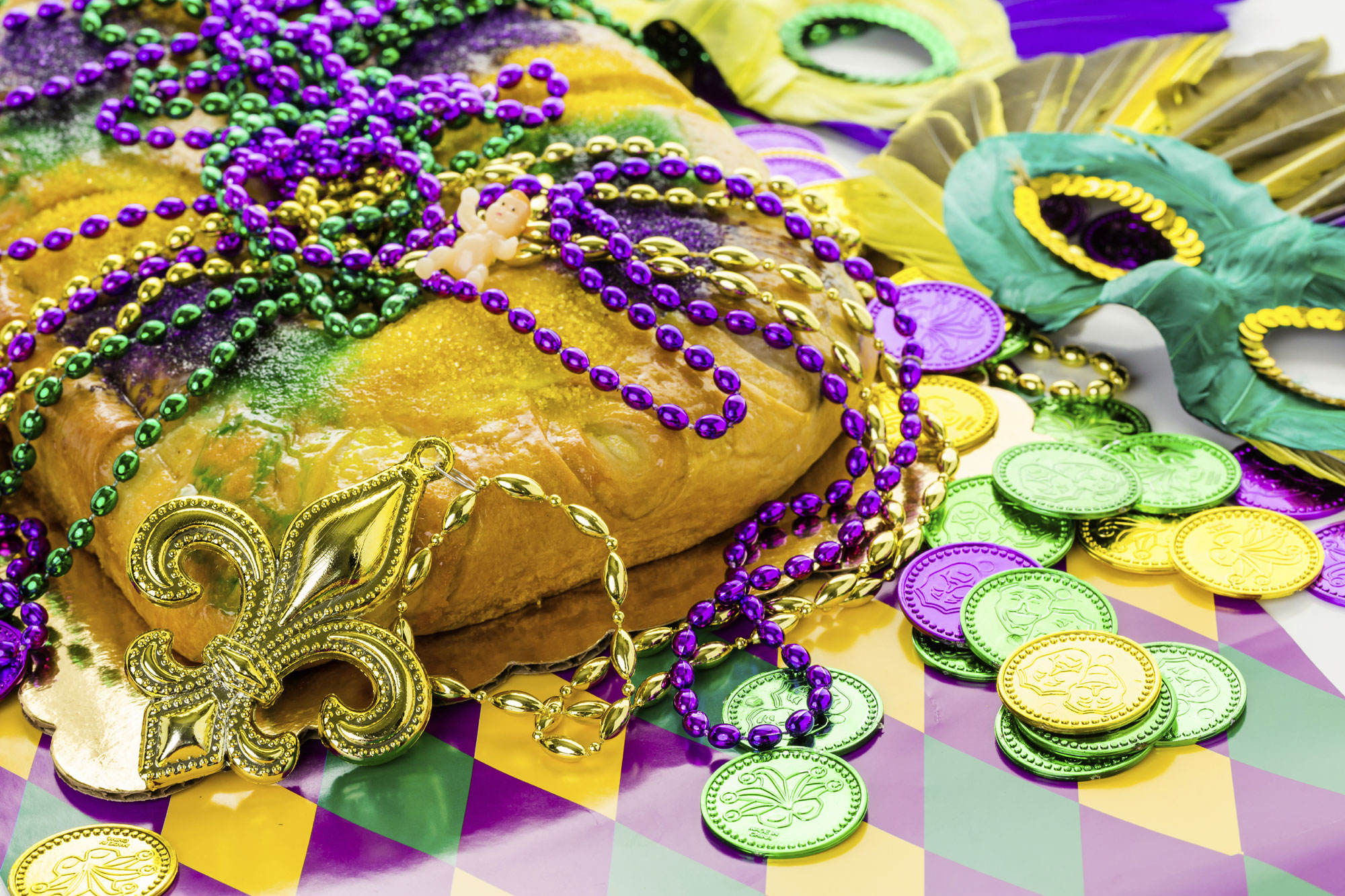 Ethnic Cuisine
If you want to create separate zones in your venue (coordinated with exhibits or displays?) or establish a country theme in your event planning, choose from your choices of ethnic cuisine stations, such as an Asian station with shrimp stir fry with oriental vegetables, general tso chicken, brown rice, soy sauce, and fortune cookies.
Mediterranean Station: with grilled pita and assorted hummus, chicken souvlaki, grilled vegetables, tzatziki, and tabbouleh salad, or a
Moroccan station: with sauteed chicken and lamb stewed in a red pepper, garlic, and onion sauce. 
For other menu ideas that'll fit with your specific corporate, ask the professionals for custom food station menu ideas with the flavor and presentation to complete your memorable event atmosphere.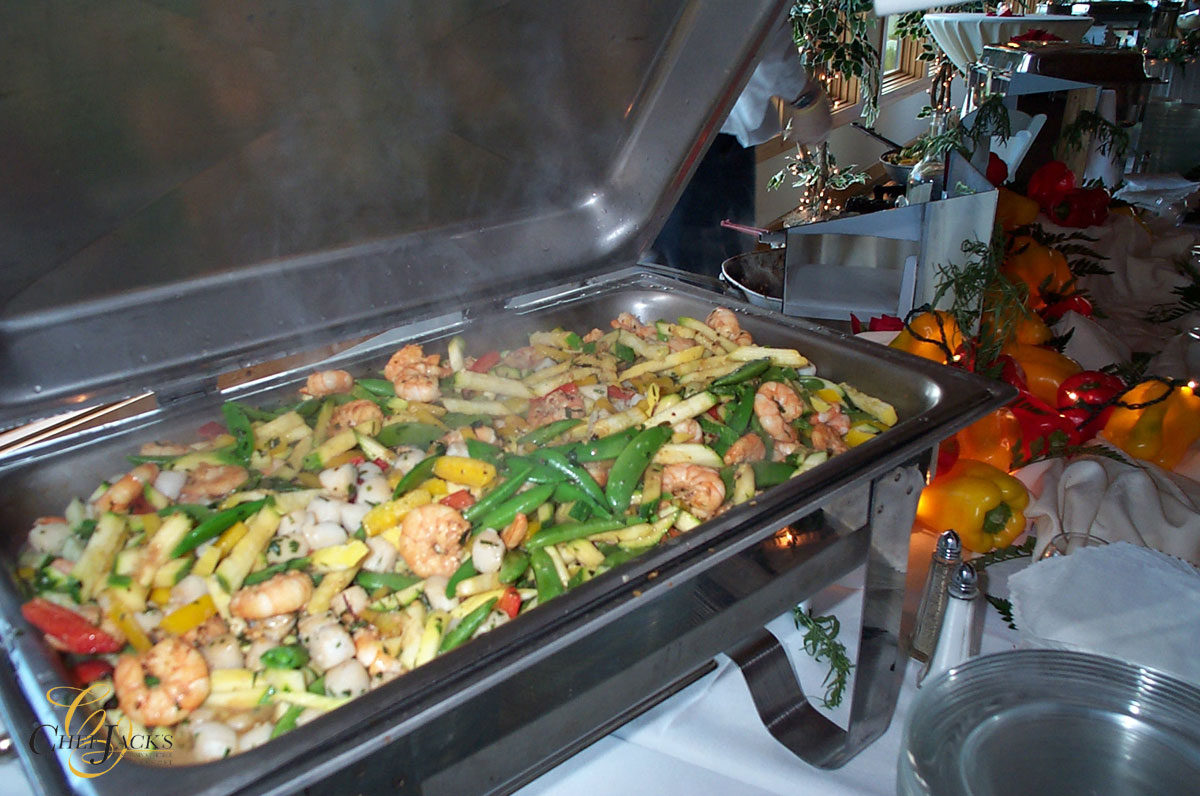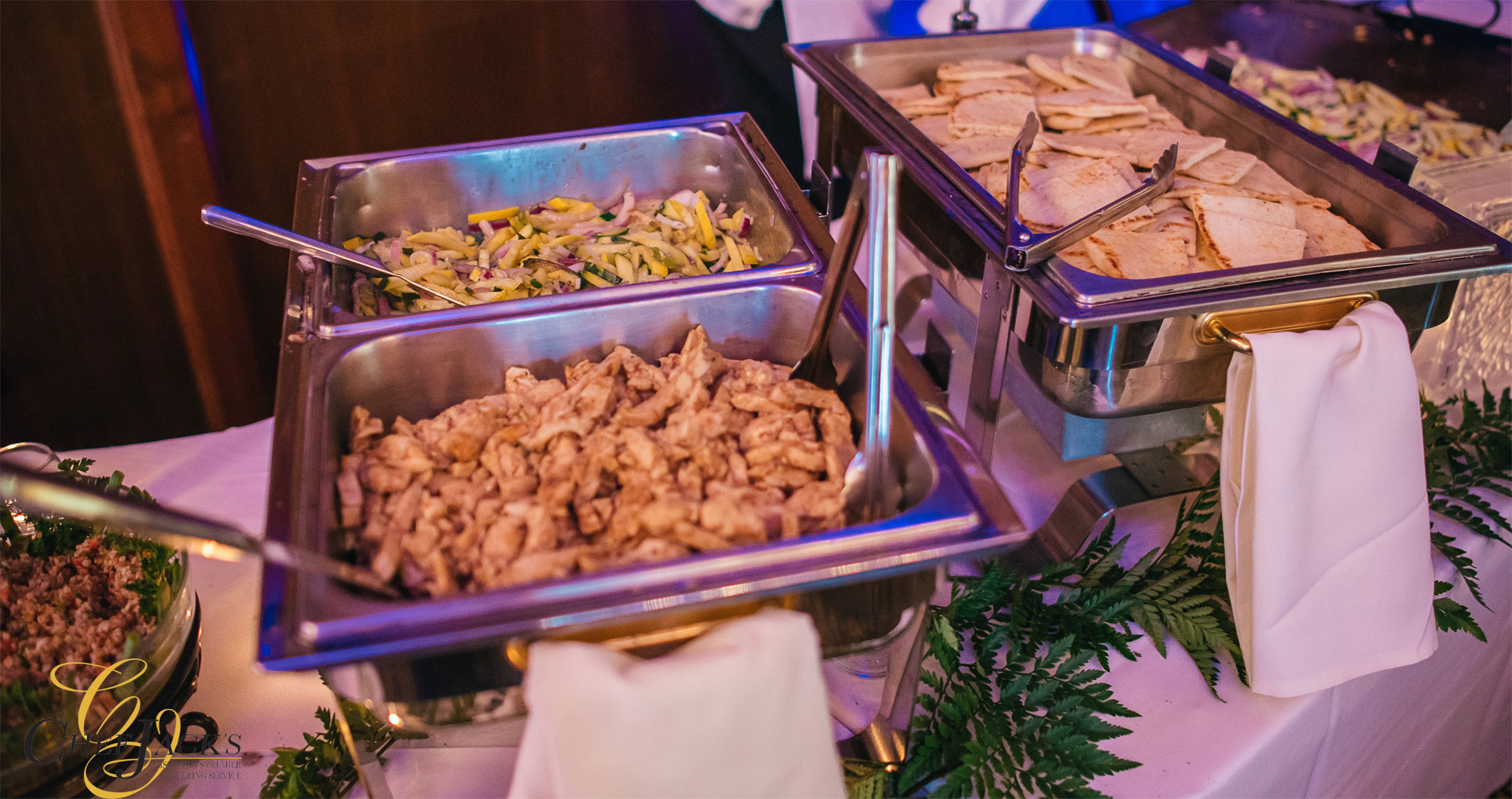 Summary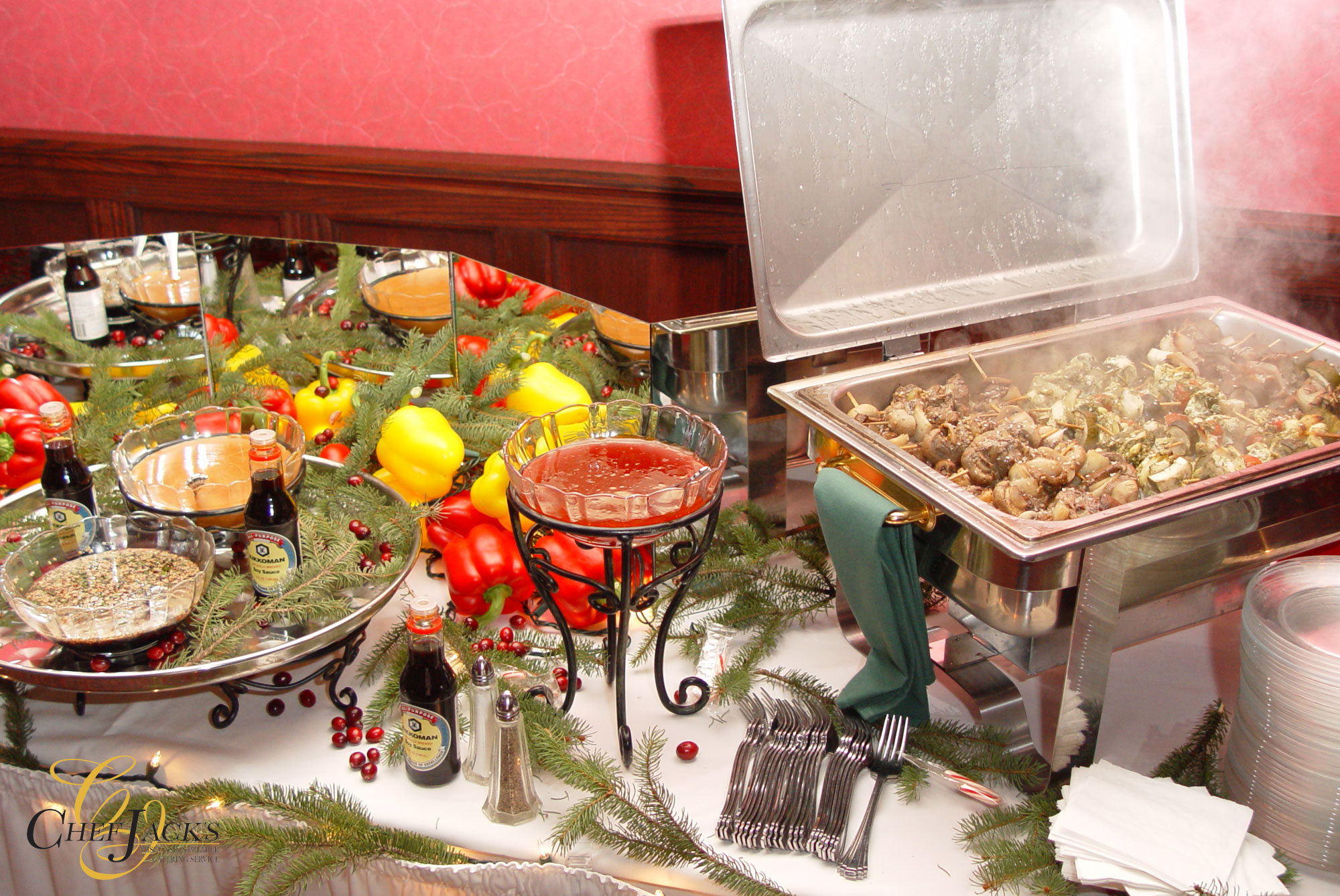 Article Name
Corporate Event Planning. 8 Unique Food Station Buffet Menu Ideas
Description
Use European food stations to create flow and make your event an experience---not just another event with a buffet.
Author