10 Unique Wedding Food Menu Ideas Your Guests Will Crave
One of the coolest things about planning a wedding today is the freedom to break away from the expected traditions
(or to put a new spin on them!).
Menu Ideas
Your wedding can be whatever you want it to be: modern, traditional, vintage, creative—every detail can be customized, including your wedding menu. 
To be sure, it's fun to choose unique dishes served in different ways, and to get creative (or creatively different!) in your wedding planning.  To get you started, we've listed some unique wedding food ideas that get your planning juices flowing. (Need more ideas for distinctive wedding dishes? Just ask!).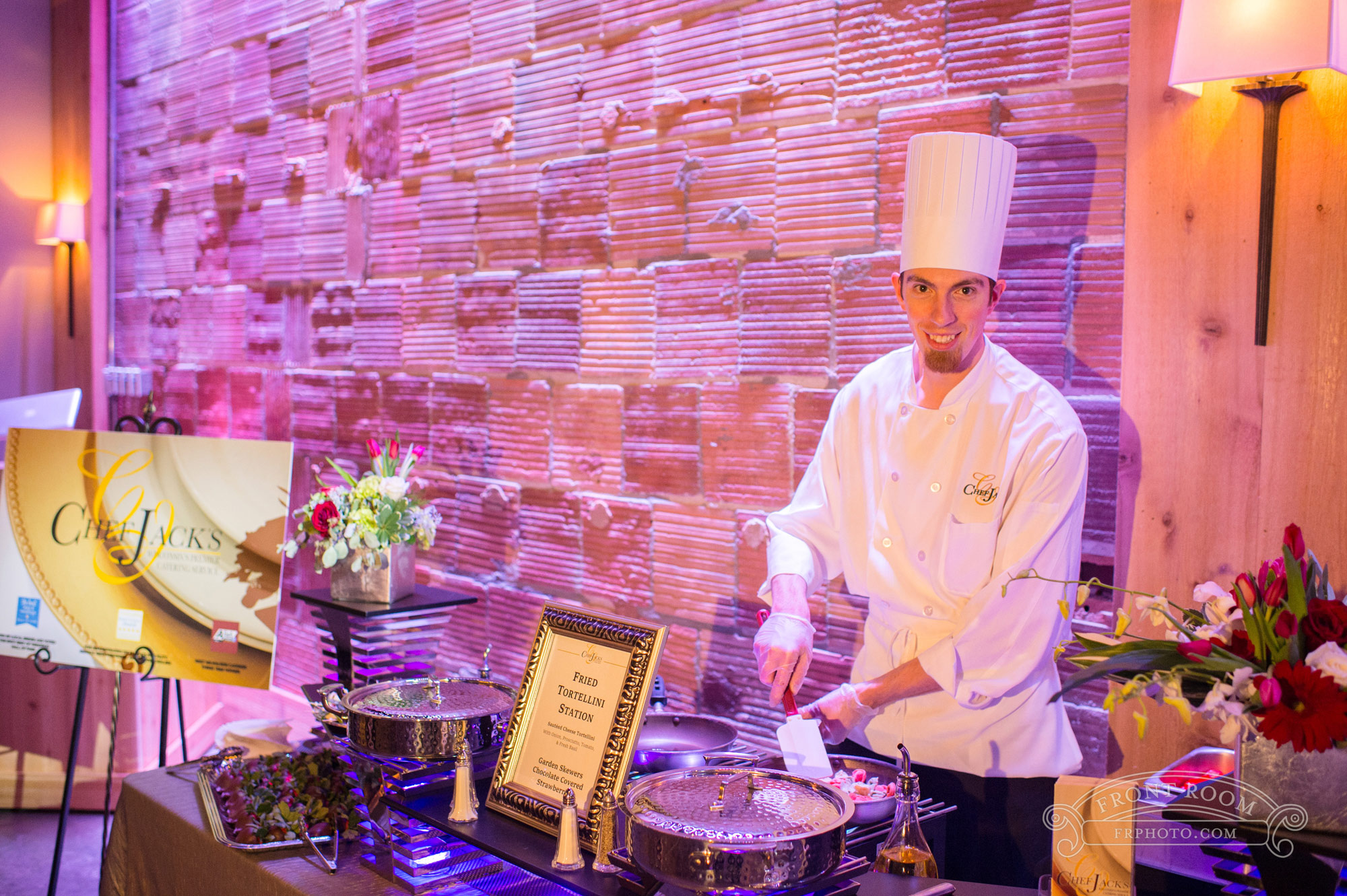 Garden fresh greens in a glass
Salad and soup may be one of the oldest norms of dining, but how you serve them can give your wedding menu an entirely new twist.  A simple course of garden fresh greens with your favorite fruits, cheeses, or vegetables served in a martini glass—yes, a glass—can set the mood for an entirely unique and unexpected evening.
Comfort food with a martini twist
Don't worry.  Your youngest guests can still enjoy their favorite comfort foods without showing ID.  We're talking about margarita mac (cavatappi pasta sautéed with tomatoes, mozzarella, parmesan, and basil) or lobster mac (lobster, rotini pasta with gruyere and fontina cheeses) served in a martini glass.  It's elegant, fun, and different.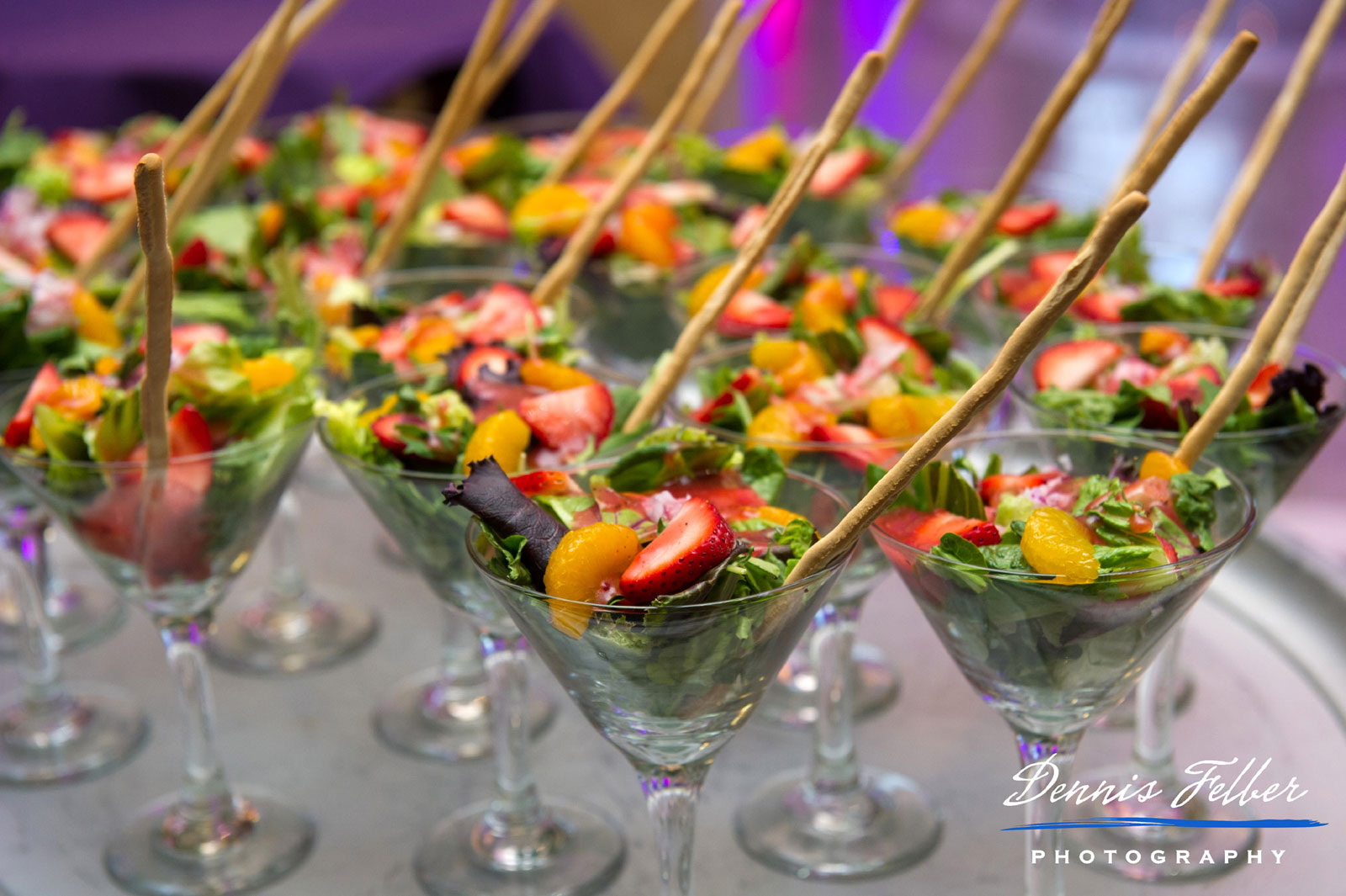 More martini glass favorites
If you want to stick to a traditional meat-and-potatoes meal, consider adding a potato station to your food station list (along with a carving station of your choice).  Your guests can enjoy roasted garlic mashed and baby reds mashed with chopped bacon, shredded cheddar cheese, onions, sour cream, and gravy—all served in a martini glass.
Sweet potato goodness
Sweet potato cakes with maple syrup is an appetizer sure to satisfy your guests' sweet tooth, and make your guests look forward to the rest of the wedding menu you planned.  It's different, unexpected, and delicious: three good reasons to add sweet potato cakes to your wedding menu.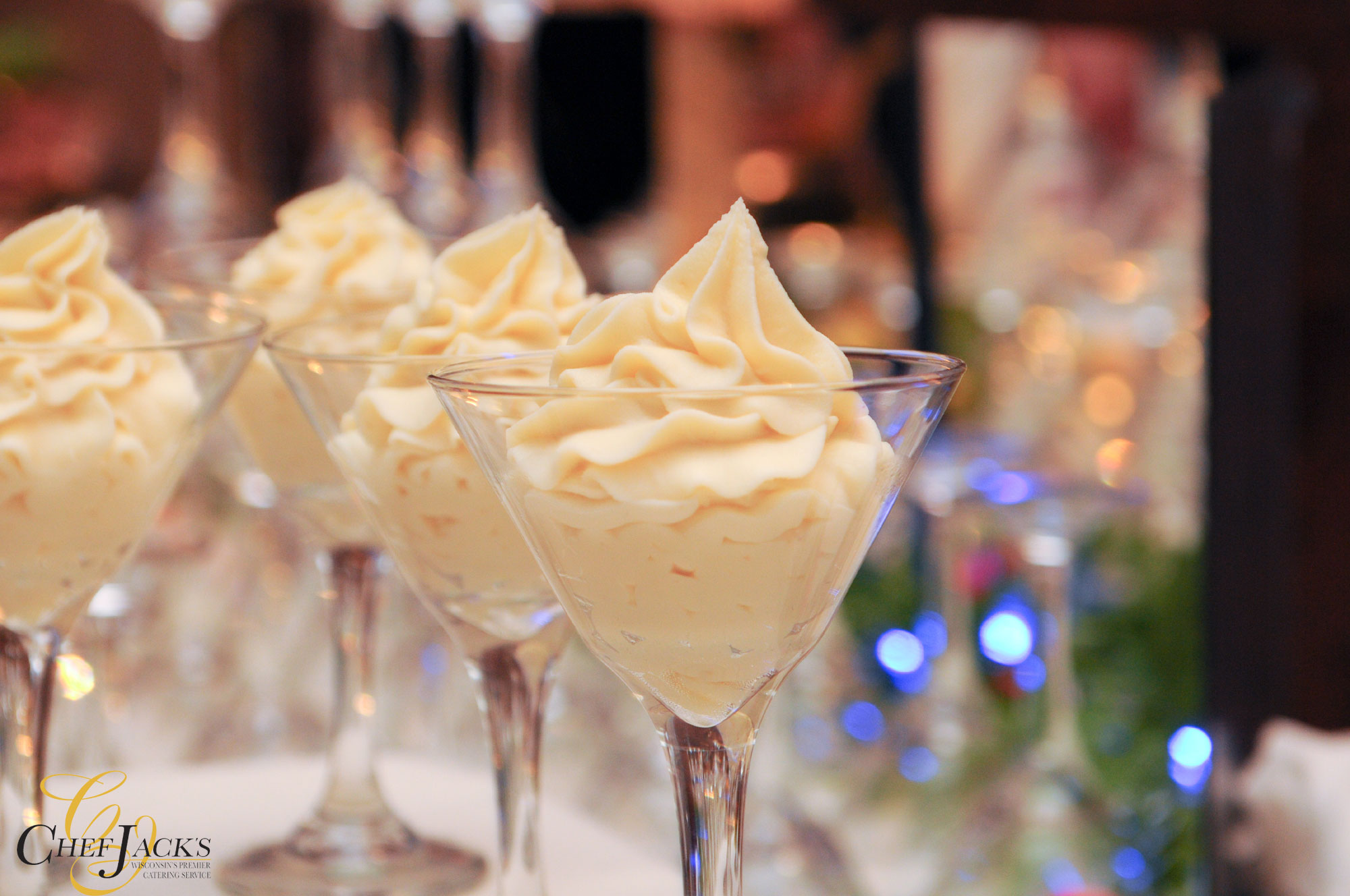 Quirky quesadillas
Chicken, pulled pork, spiced pear & brie…any kind of quesadilla can spice up your wedding menu.  Whether as an appetizer, food station, or a late night snack, quesadillas are usually an unanticipated part of your wedding menu, but one your guests'll appreciate as they enjoy their quesadillas.
Any kind of food station
Food stations with cuts of meat, ethnic foods, side dishes, or sandwiches are interactive, fun, and a welcome addition to any wedding menu.  What's more you can choose the line-up of food stations you want (here are ideas for wedding food stations that can get you started here).  Your guests'll love heading over to a carving station, mingling, then heading over to choose from a selection of pasta, Mexican, Asian, salad, potato dishes—any combination of your favorites that just scream you and your unique wedding theme.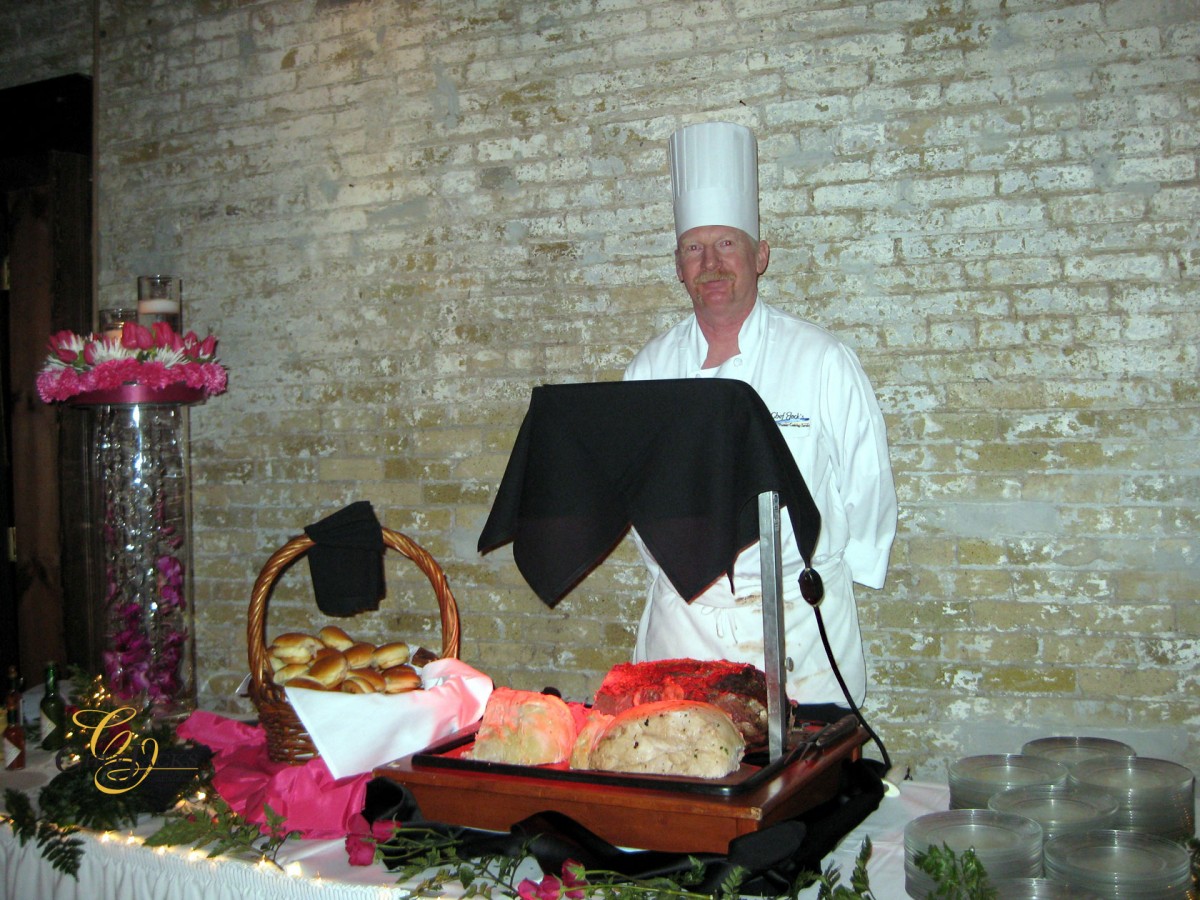 Mason jar desserts
No one expects cherry and peach pie or s'mores at a wedding—and they certainly don't expect these delectable desserts served in mason jars.  They're the perfect dessert course, or a late night snack that your guests can't wait to indulge in (more late night course ideas here).
 Flaming sweetness
For a really fun, and COMPLETELY unexpected twist, talk to your caterer about a dessert that ignites your guests' imaginations and their palette.  Our Baked Orange Alaska fits the bill perfectly. This memorable dessert is a Florida orange filled with French vanilla ice cream, topped with meringue and flamed with brandy.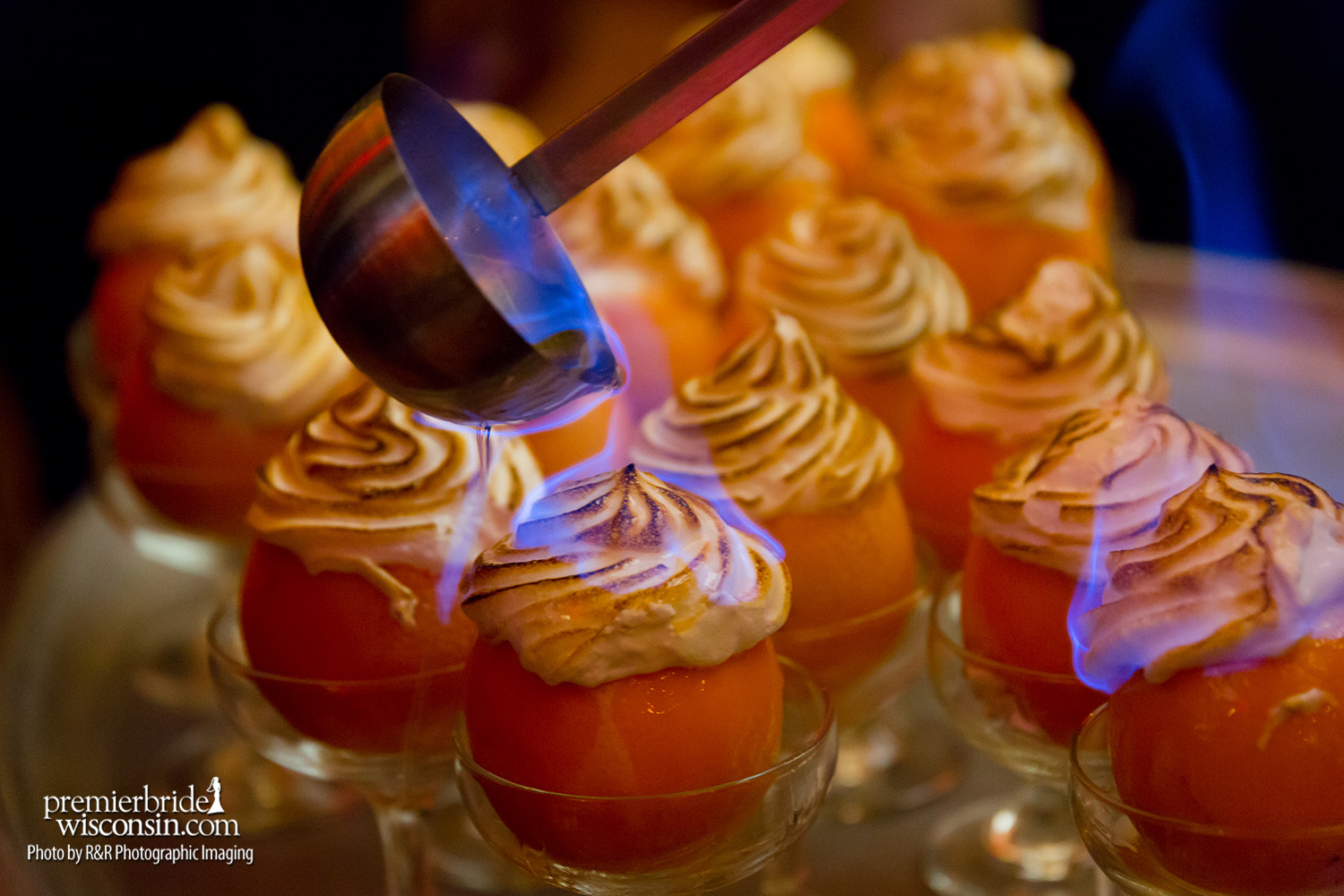 Ice cream….well ice cream anything
This is a very cool option (pun intended) for a wedding, as a late night snack or a surprise for a room full of guests who expect cake.  Discuss all your ice cream dessert options with your caterer, such as a wedding sundae bar, an Italian ice cream dessert, or a number of other non-traditional wedding desserts that can make your wedding unique—and incredibly memorable.
Gourmet popcorn stand
The smell of popcorn entices memories of the county fair or a hot day at the movies; at a wedding, it adds a pleasant surprise to the wedding reception.  With flavors like banana split (strawberry, chocolate and banana), south-western (jalapeno and cheddar) or fiesta pop (lemon, orange, watermelon, raspberry, grape), a gourmet popcorn station just screams fun and different, either as a late night snack or a fun addition to an outdoor wedding (or an indoor wedding fair or…).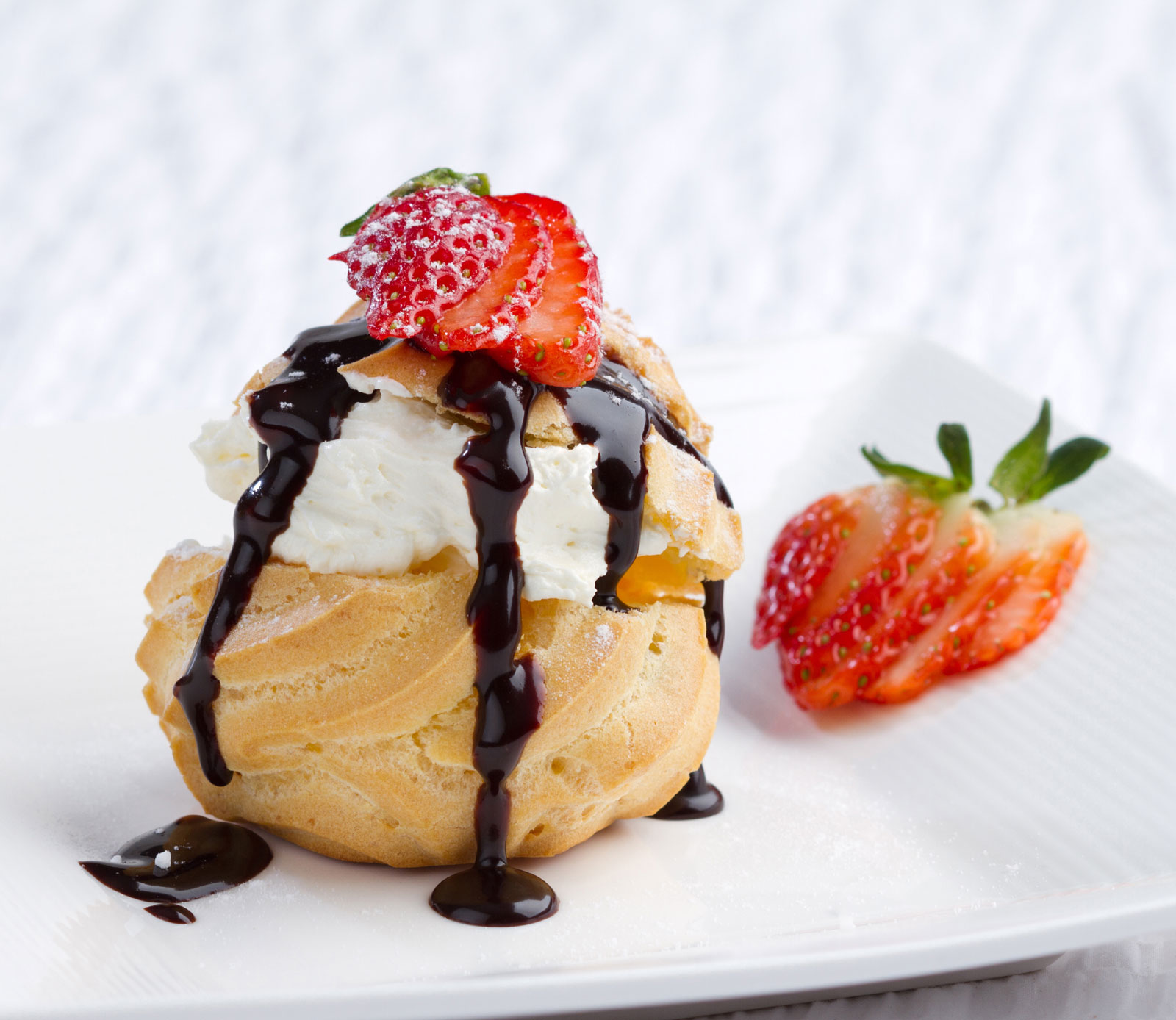 Summary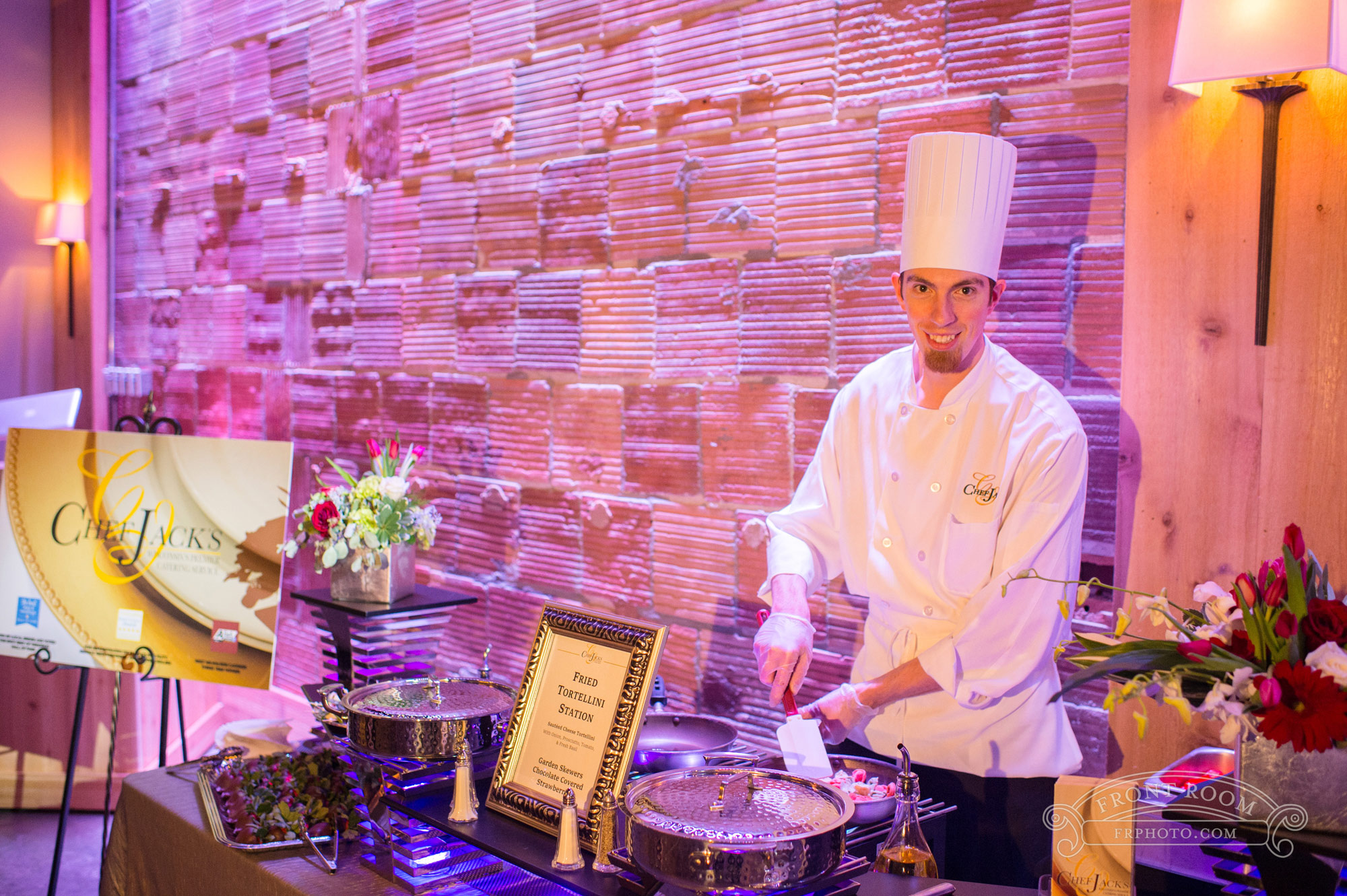 Article Name
Description
One of the coolest things about planning a wedding today is the freedom to break away from the expected traditions (or to put a new spin on them!).
Author